Guiding us since 1975
Arvedi Tubi Acciaio produces tubes for special applications and operates in a spirit of innovation to improve production process performances, strengthen relations with customers and raise their level of satisfaction with products and services in line with expectations. These results are also achieved thanks to the certification of the Quality Management System.
ATA, fomerly called Acciaieria Tubificio Arvedi, was first certified in 1975 for pipes for the plumbing and heating sector and the shipbuilding sector. In 1987 ATA was among the first companies in the Italian steelmaking sector to obtain Quality System certification.
In order to achieve constant developments and improvements, the Quality Management System has been progressively updated to the latest standards, currently ISO 9001-2015.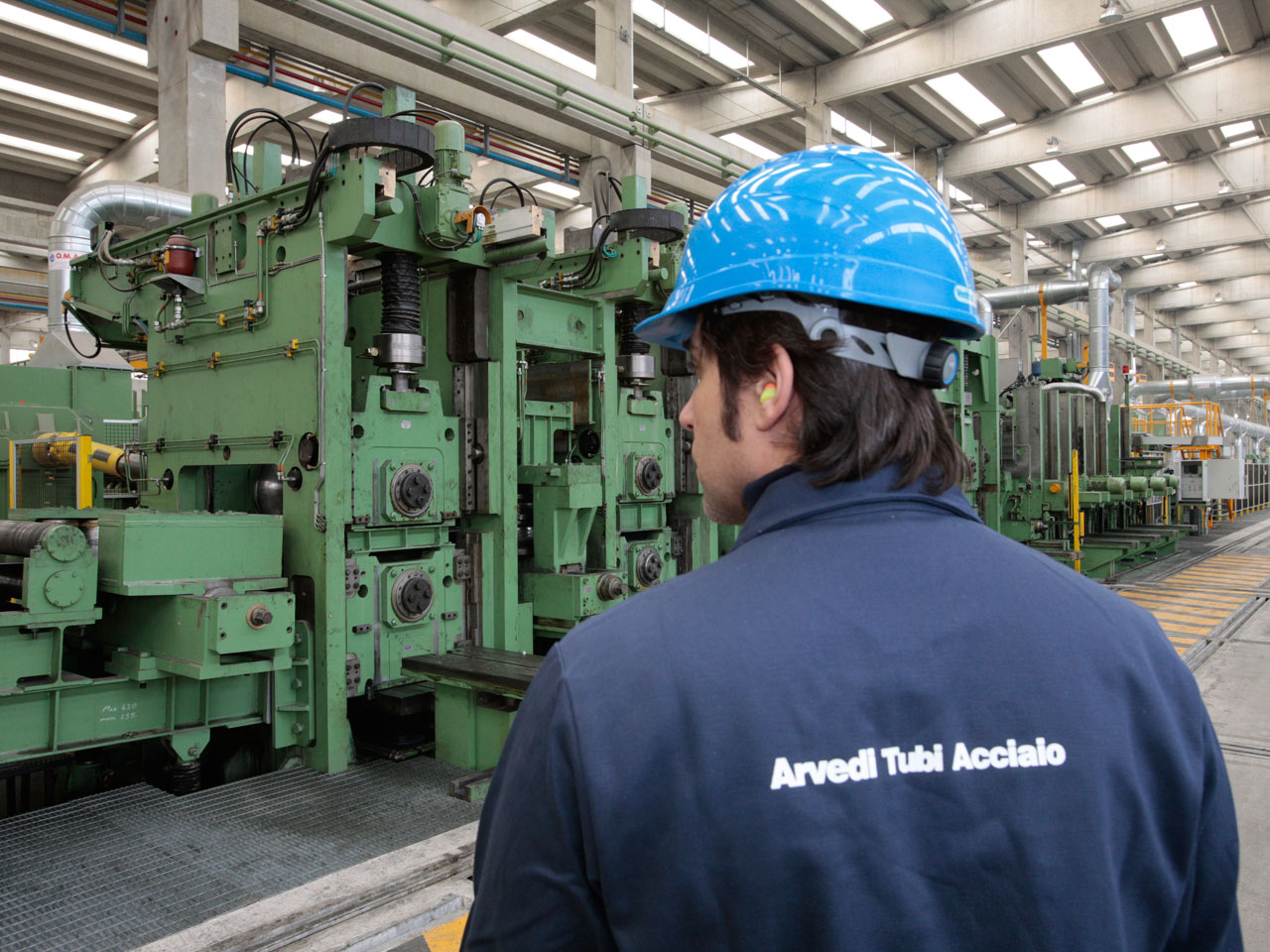 In the same way, for supplies to the Automotive sector, Arvedi Tubi Acciaio's Quality Management System has been certified since 2000 in compliance with standard QS 9000. The System was then adapted to ISO TS 16949 and now complies with IATF 16949-2016.
Over the years Arvedi Tubi Acciaio's Quality Management System has been flanked by its Safety, Environment and Energy Management Systems, all of which are certified.
The management system, certified OHSAS 18001, involves the owners, top management and all employees in a programme of continuous improvement to ensure the health and safety of our workers.
Arvedi Tubi Acciaio's commitment to protect the environment is shown not only by ongoing monitoring and rigorous respect of the emission standards set by Italian laws and regional and local decrees, but also by the fact that Arvedi Tubi Acciaio was among the first companies in Italy to obtain ISO 14001 environmental certification.
Still with the aim to reduce the impact on the environment, particular attention is paid to energy saving which is why an energy management system has been implemented in accordance with standard ISO 50001, the objective of which is to constantly improve energy efficiency.
An important step in the development of company structure and processes was the adoption of the Organization, Management and Control Model as per Decree Law 231/01 and the definition of a Code of Ethics.
Type of certification

Date first issued

Organisation

pdf
Quality

ISO 9001:2015

26/01/1987

IGQ

pdf

IQNET

pdf
IATF 16949:2016
20/11/2001
IGQ
pdf
Environment

ISO 14001:2015

12/05/2005

IGQ

pdf

IQNET

pdf
Safety
ISO 45001

31/12/2009

IGQ

pdf

IQNET

pdf
Energy
ISO 50001:2018

03/09/2014

IGQ

pdf

IQNET

pdf
Licences, approvals and product certifications
| | | |
| --- | --- | --- |
| Type of approval | Field of application | pdf |
| Hygiene certificate (Poland) | Galvanized tubes | pdf |
| Hygiene certificate (Austria) | Galvanized tubes | pdf |
| Hygiene certificate (Germany) | Galvanized tubes | pdf |
| API License Number: 5L - 0293 | Petroleum sector (Line pipe) | pdf |
| API License Number: 5CT - 0392 | Petroleum sector (Casing and Tubing) | pdf |
| TUV AD 2000 Merkblatt W0 + Pressure Equipment Directive 2014/68/EU (PED) Annex I, Paragr. 4.3 | Tubes for pressure equipment conforming to European directive 2014/68/EU and TUV AD 2000 | pdf |
| DIN - DVGW | Galvanised pipe for water | pdf |
| DNV GL | Tubes for ship building | pdf |
| EC trademark | EN 10210 - hot finished structural tubes | pdf |
| EC trademark | EN 10219 - structural tubes | pdf |
| EC trademark | EN 12899 - tubular steel supports | pdf |
| B trademark (Poland) – Zetom 127 certificate | EN 10217-2 for district heating networks) | pdf |
| EPD | Environmental Product Declaration | pdf |
DOP: declaration of performance
| | | | | |
| --- | --- | --- | --- | --- |
| Norm | Number of DoP | Language | Description | DoP File |
| EN 10210 | 10210-01072013-2 | Italian | Structural hot finished | pdf |
| EN 10210 | 10210-01072013-2 | English | Structural hot finished | pdf |
| EN 10210 | 10210-01072013-2 | Portuguese | Structural hot finished | pdf |
| EN 10210 | 10210-01072013-2 | Polish | Structural hot finished | pdf |
| EN 10219 | 10219-01072013-3 | Italian | Structural | pdf |
| EN 10219 | 10219-01072013-3 | English | Structural | pdf |
| EN 10219 | 10219-01072013-3 | Portuguese | Structural | pdf |
| EN 10219 | 10219-01072013-3 | Norwegian | Structural | pdf |
| EN 10219 | 10219-01072013-3 | Polish | Structural | pdf |
| EN 10224 | 10224-01072013-2 | Italian | Transport of aqueous liquids | pdf |
| EN 10224 | 10224-01072013-2 | English | Transport of aqueous liquids | pdf |
| EN 10255 | 10255-01072013-2 | Italian | Distribution of aqueous liquids, gases and fuels | pdf |
| EN 10255 | 10255-01072013-2 | English | Distribution of aqueous liquids, gases and fuels | pdf |
| EN 10255 | 10255-01072013-2 | Polish | Distribution of aqueous liquids, gases and fuels | pdf |
| EN 10255 | 10255-01072013-2 | Slovenian | Distribution of aqueous liquids, gases and fuels | pdf |
| EN 12899 | 12899-01072013-2 | Italian | Tubular Supports | pdf |
| EN 12899 | 12899-01072013-2 | English | Tubular Supports | pdf |
| EN 10217-1 | 10217-1-01112019-0(PL) | Polish | B trademark Poland | pdf |
| EN 10217-2 | 10217-2-01112019-0(PL) | Polish | B trademark Poland | pdf |